How Instagram Algorithm Operates On Your Feed Posts
For the first time in June 2018, Instagram made its six primary ranking factors public. Surprisingly, this algorithm has remained largely unchanged since then.
What users see in their Instagram Feed is determined by three key factors:
a) Recency: How recently the content was posted, with timely posts being given priority over those that are weeks old.
b) Interest: How much Instagram thinks you'll care about a post, with higher rankings for what matters to you based on recent actions with similar content (and, potentially, machine vision analyzing the actual content of the post).
c) Connection: How connected you are to the person who posted it, with higher rankings for people with whom you've communicated often on Instagram in the past, such as by commenting on their posts or being tagged in photos together.
There are three additional signals that affect rankings in addition to those key factors:
a) Following: If you follow a lot of people, Instagram will choose from a larger pool of writers, so you will see less of any one person in particular.
b) Frequency: When you open Instagram, it will try to show you the most popular posts since your last visit.
c) Utilization: How much time you spend on Instagram decides whether you're only seeing the best posts during short sessions or whether you spend more time surfing overall.
In reality, since June 2018, something else has changed.
In a post on the Rainylune blog titled, Why Your Instagram Engagement Kinda Hurts Lol Now, Rachel Reichenbach, an artist and small business owner who creates adorable frog characters, revealed these changes. She received some advice from an anonymous media expert from the Instagram Partnerships team on how to expand her account, as well as "a lot of very useful information," she said.
Ms. Reichenbach went on to say,
"There are over 500 different variables, but it considers much more than just the likes, opinions, comments, and other aspects of a single message. The algorithm considers your overall use of Instagram when ranking your particular post."
She also stated that the algorithm considers in-app cameras and filters, geolocation tagging, messaging, and story buttons, among other things, and favors them. That also means you can take advantage of all of Instagram's features, such as Stories, IGTV, and Reels. Even if it isn't practical or sustainable, you can use them regularly and often.
Instagram's algorithm for regular Feed messages, according to Ms. Reichenbach, rewards you for posting three days a week. So, instead of Monday, Wednesday, and Friday, you should post on Tuesday, Thursday, and Saturday. You can, however, post every other day.
She advised advertisers and tried to publish posts at the same time every day, during their followers' peak hours. According to Reichenbach, the Instagram algorithm favors patterns and accuracy.
Take a look at one of her Rainylune accounts on Instagram to see how regularly and often she posts:
Take a look at Marwan Parham Al Awadhi's DJ Bliss Instagram account to see how often and regularly this Emirati DJ posts: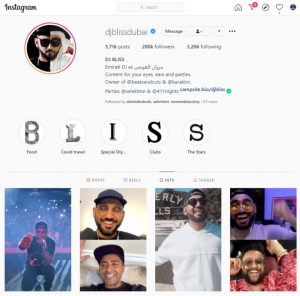 Next, look at Nabaa Al Dabbagh's ISpeakFootballOnly Instagram account to see how much and how regularly this female football (aka soccer) analyst posts:
Finally, check out Ghaith Al Falasi's Ghaith 79 Instagram account to see how often and often this race car driver and drift enthusiast posts: