You must know who your real followers are.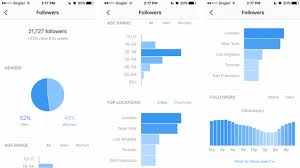 Any analytic tools these days can give you demographic information. Instagram Insight is no different, so you must take the advantage of the data. Know who are reading and interacting your content. Know where they are coming from, how old are they and what devices they are using. If possible, you can tweak your content a little bit to match that demographic. It's all about the old saying- give the people what they want.
Know The Time When Your Followers Are Active:
Apart from the demographic information, Instagram Insights also tell you when your audience is online. An advance Instagram strategy is schedule your posts in a manner so that they can at the peak times in your audience activity.
It sounds like little bit of no- brainer but when it's about the social media strategy, you will get three benefits from it. Firstly, users don't have to scroll to far to see your content, secondly, they can receive instant notification when you post a new content and, finally, they have that notification to remind them, they are more likely to visit your post and interact with your content.
Compare and Contrast Your Posts:
When you are using a tool like Instagram Insights, you don't need to be an advanced Instagram user or mind reader to know what people want to see. Let's not make things complicated, you can simply check Instagram Insights and know what posts have been popular-it's that simple.
Use Instagram Insights With Stories:
Using Instagram Insights to keep track on your Instagram Story is the next logical step that you need to take.  It is true that right now you don't have quite the array of information for stories as you do for regular posts, however, there are still a lot of useful…. Well, 'Instagram Insights'…. That you can use to inform and improve your content, and thereby spread your reach on the platform.
Speculate To Accumulate:
Just like you can boost a post on Facebook, you can also " promote" a content on Instagram. So, you must use Instagram Insight along with the Instagram Promote.
Use your Instagram Insights to discover your most successful posts and your most proven content, and then take things to the next level by re-using that post (another of our social media tips from the past), and promoting it to really maximise its exposure and reach.