Boost Your Profile Engagement Rate With These 5 Hacks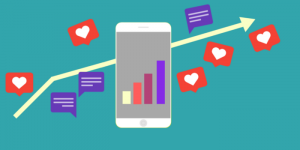 D'Shawn Russell, founder and CEO of Southern Elegance Candle Co., says, "There was a time when Instagram was all about great images, and that's virtually extinct." "Now, the most famous brands are communicating with their clients."
Instagram engagement is all about interacting with your target audience; you're clearly talking to a vacant room without engagement on Instagram. Not only does keeping an eye on your Instagram organic reach enable you to see if your social media marketing activities are paying off, but it also directs you to build prolonged bonds with your followers. A relation could make all the difference for small businesses.
What is 'Engagement' on Instagram?
Instagram engagement goes further than just looking at the number of your followers, assessing how your audience engages with your posts. Practically, that is indeed activity every time one of your followers takes action on your profile or in reaction to one of your posts.
Here are some of the typical metrics for engagement on Instagram:
Engagement metrics for posts:
Shares
Saves
Comments
Likes
Some engagement parameters include:
Hashtag usage
Link clicks/swipe-ups
DMs
Stories sticker interactions
Mentions
Why engagement matters?
For a couple of main factors, engagement matters:
Firstly, it demonstrates how individuals react to your content. The more your audience responds to your content, the stronger your engagement is going to be. This is a strong indication that you are paying off with your social network campaign.
Secondly, one of the important rating criteria for Instagram's algorithm is engagement. The algorithm seeks to uncover the posts you are most likely to connect with as Instagram loads its feed, so posts from accounts and topics you actively interact with are most likely to appear at the top of your feed.
In short: The more engagement your post receives, the more likely it is to be viewed by your followers.
How to evaluate the engagement rate on Instagram?
On your posts, IGTV, Instagram Reels, and Instagram Stories, Instagram examines whatever activity individuals take. Instagram metrics that impact your engagement rates include views, comments, posts, saves, clicks on the page, visits to profiles, followers, and Instagram Stories responses.
Looking for an engagement rate formula for Instagram? Well, it reflects on how engagement is measured, whether by reach, impressions, the total number of followers, video views, etc.
Here is a rundown of the two most commonly used formulas for Instagram engagement:
Engagement rate centered on followers
For an individual Instagram post based on followers, let's presume you want to quantify the interaction rate. The number of actions in the post will be taken, split by your total number of followers, and multiplied by 100. If you're still stressing over flashbacks of algebra tests, don't panic, we're going to break it down.

Based on your followers, analyzing the Instagram engagement rate gives you a clear understanding of how your followers feel about the content. It does not take into consideration, however, how many of those followers really came across the post. You'll want to quantify interaction based on impressions to do so.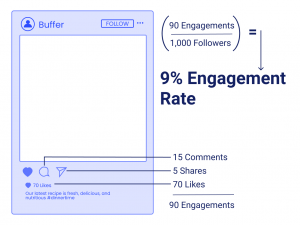 Engagement rate based on impressions
You'll use the same formula as before to measure your Instagram engagement rating based on impressions, but substitute the number of followers with the total number of impressions.
Based on impressions, why we choose to calculate engagement: There is no correct or incorrect formula to use here. We use the impression-driven interaction rating formula because it indicates how many individuals connect with your content based on individuals who have actually seen it, rather than the number of individuals who follow your account.
What's a reasonable engagement threshold for Instagram?
While "reasonable" is a subjective word, you may be stunned to discover that as low as 1 percent can be a good Instagram engagement score. A survey involving 1,800 Instagram accounts in 12 various industries found an overall participation rate of 1.6 percent. And that seemingly low figure is pretty standard across businesses.
Think of what makes commitment important to you before you mark your engagement rate as positive or poor. Giveaway posts might give you high levels of interaction, but do they contribute to further sales? Do more consumers want to translate? Instagram engagement is perfect for the ego, but how the engagement relates to business is much more important to consider.
Define "good" by the improvement over time, instead of hyper-focusing on the numbers. Pay attention to higher engagement rates for advertising, tweak the marketing plan for social media, and work towards increasing total engagement.
5 Strategies to help maximize your engagement on Instagram
Engagement is all about engaging with your specific audience, but there is no step-by-step approach to increasing rates of engagement. These strategies can, however, help you determine the interests of your audience and appeal to them for potential content.
Analyzing what works
If you want to improve your Instagram engagement score, it's a smart step to evaluate your posts to see what resonates with your audience. You should start preparing and shipping more content in that format until you know what kinds of content are receiving the most attention. For starters, you might look to sharing more user-generated posts if user-generated content gets more exposure than other posts. Figure out the engagement rate for each of your posts over a week or month to evaluate the content, and make notes about which posts get the highest attention or engagement.
Using the interactive attributes of Instagram
Use Instagram Immersive Stickers in your stories, too. Stickers such as surveys, comments, quizzes, and sliding scales on Instagram all allow your followers to communicate with your content.
What's awesome about Instagram Stickers is that it only takes a second for someone to vote in a poll, grade an adorable dog picture with full heart eyes, etc., and all those fast acts foster engagement between your followers and your content.
Have consistency
Responsive people are preferred by the Instagram algorithm, so uploading daily would help get the posts in front of more viewers. Check around with your schedule to determine the right time for your brand to share on Instagram in specific.
"Consistency kills the market," Shored Up Digital co-founder Marnely Murray says. "As a business, you're expected to post daily. On Instagram, if I decide to follow you, it's because I want to see your posts.
Consistently uploading helps fuel your connection with Instagram. As people engage with your posts, it signifies that Instagram displays your content more frequently to certain individuals. Taking into account that more is not always good. On average, companies post on Instagram only once a day and do not see changes in engagement as they post more regularly.
Look beyond having Likes
It's easy to concentrate on racking up likes, but it's not the only measure to watch for Instagram interaction. "Content was historically evaluated on likes and follower counts," says Utendahl Artistic creator Madison Utendahl. "You need to worry about your saves and shares now."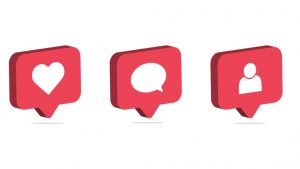 We scroll, we double-tap, we go on with our lives. The likes are somewhat passive. Other stats on Instagram tell something about the users who engage with your posts.
Comments say, "I care enough about this to write my opinion out."
Shares say, "That's what I want, and I hope someone else will, too."
Saves says, "That's so amazing. In the future, I want to revisit it."
Often brands make the error of missing saves and shares as they are not publicly available. If you can't show off, what's fine is engagement, right? Incorrect. Not only do saves and shares tell you who's really interested in your content, they tell Instagram, too. Instagram's algorithm takes care of who saves and shares your content; it then guarantees that your posts appear most frequently in the Instagram feeds of those viewers.
Get into a discussion
Don't just toss the planet with your content and hope to be showered with appreciation. Give people chances to communicate with you back-and-forth. To promote feedback, have questions or a call to action (CTA) in your posts. "Note that you speak to people, and human beings love to be heard," says Utendahl. A perfect way to crack the ice with the listeners and get them talking is to raise questions. Only make sure you're chatting back, listening to feedback and DMs when you respond to your business calls. But it's not always easy to keep on top of comments, as Instagram updates easily fade.
Start concentrating on the audience and the engagement will follow
"Build your profile on social media into what your clients want to see over giving people what you want them to have," says Russell, of Southern Elegance Candle Co. Instagram interaction calculation begins by homing in about what the user needs to chat, post, and enjoy. It is all about making and posting content that fuels those urges to improve that interaction.
"We spend a lot more time engaging customers to figure out just what they want," Russell says, "but we give them more of what they want, and as a consequence, they look forward to our posts because our posts are not about us; they are more about them."