Everything You Need To Know About Live Badges On Instagram
Do you know what Instagram live badges are? Are you curious about Instagram's exclusive heart badges and want to learn more?
FACT: Many influencers wish for a better way to monetize their increasing Instagram followers, and fortunately, Instagram already provides one in the form of live badges.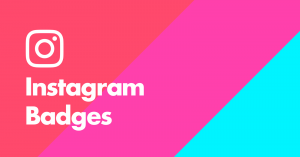 Let's have a look at what it is, how it works, and why you, as a developer, should give it a shot.
What Are Instagram Live Badges and How Can You Use Them?
In the year 2020, Instagram launched Live Badges to promote creators and their content on the platform. Badges are a type of monetization that encourages users to "tip" their favorite creators. The concept behind badges is to genuinely encourage fans to show their support by purchasing badges when watching a live stream.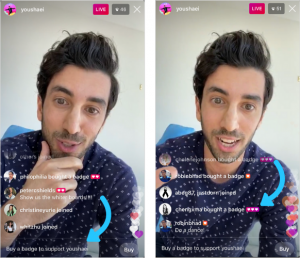 And there's an explanation why live streams are being targeted. At the onset of the COVID-19 crisis, Instagram's live use rose by a staggering 70%. With such a surge in use, it became ever more important to assist developers in earning money and connecting with their audiences. As a result, the concept of introducing live badges to Instagram was born.
So, how do they work with both the creator and the audience?
What Are Instagram Live Badges and How Do They Work?
Instagram Live Badges make it easy for creators to find out who their most devoted followers are. They will see their badge holders as well as statistics on how many hearts each viewer bought. As a result, it's simple to give them a shout-out if necessary. During a live video, viewers can buy a badge to express their love for their favorite creators by wearing their fans' badges. It encourages them to stand out in the comments with a special visual symbol depending on how many hearts they've bought. They will also gain access to extra functions, such as being added to the creators' list and seeing a special heart symbol.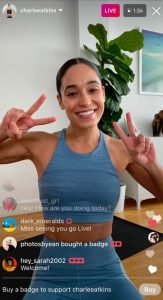 The badges are divided into three levels based on the number of hearts purchased by viewers. One heart costs $0.99, two hearts cost $1.99, and three hearts cost $4.99.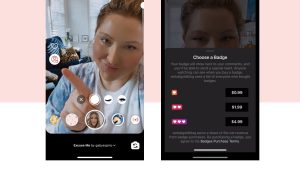 For the length of a live stream, Instagram live badges appear next to a person's name.
Is it Possible for Anyone to See My Badges?
For up to 90 days, creators will see a list of badge holders on their live videos. When you buy a pin, it is visible to all audiences during the live stream. The badge is shown alongside your username, and depending on the number of badges you buy, it is highlighted differently.
What are the advantages of using Instagram live badges?
Why Should Instagram Live Badges Be Used by Creators?
Instagram live badges are still a relatively recent feature. They may not have appeared on several accounts yet, but they are here to stay. Here are a few reasons why you should start using them right away.
Monetization
The most apparent explanation for using Instagram live badges is to increase your reach. You put a lot of time into your work as a producer, and you deserve to be compensated for it. It doesn't actually mean it'll become your full-time work, but it's always a fun place to get tips when doing live videos.
Review Your Most 'Preferred' Content
Another strong reason to use Instagram live badges is to better your future content. The number of badges you get for each live stream will tell you how much your viewers like your content. For example, if you try a DIY video for a change and get more badges from your followers, they likely want to see more of the same type of content in the future.
Discover Your Top Followers
Instagram live badges aren't just about making money. As part of your live streaming, they will assist you in discovering your top fans. You will learn more about your fans, their preferred content, and the number of badges they're willing to buy to help you by accessing a list of people who purchased badges during a live video.
Increase your clout
It's not always straightforward to assess your power as a creator. However, there are a number of metrics that will assist you in doing so. Live badges will help you monitor your live streaming performance and earnings over time. When your following grows, you'll be able to see how you're increasing your reach (and sales stream) while still refining your content ideas.
Who Is Qualified to Use Instagram Live Badges?
Instagram began distributing live badges to a select group of creators in early 2020. It was later extended to 50,000 more developers worldwide in 2020. They are currently available to creators in Brazil, the United Kingdom, Germany, France, Italy, Turkey, Spain, Mexico, the United States, Australia, and Japan, with more creators planned to be added shortly.
Instagram Live Badges: How to Get the Most Out of Them?
Are you trying to figure out how to use live badges to boost your account? Here are a few suggestions to help you get ready for them.
Give The Audience A Reason To Purchase A Badge
Your viewers will need your help to get started with live badges. Give them an incentive to keep buying your products. Going live and expecting your followers to start buying Instagram live badges isn't enough. Very likely, you'll have to explain how they operate and whether they need to buy them.
Place An Emphasis On Community Development
Before thinking about monetizing your account, you should concentrate on growing your culture. During the live sessions, a growing and the engaged audience have a better chance of purchasing live badges. Begin by establishing genuine relationships with your audience, pique their interest in your content, and be as engaging as possible.
Takeaway
Instagram live badges seem to be a promising feature for influencers looking to monetize their following. It's a fantastic way to transform your creativity into a living simply by being yourself and making more content through difficult times. Keep focusing on your content when developing your community if you still don't have access to live badges. Enjoy the phase if you're about to start using them!
Experiment Of New Concepts
Are you looking to be more adventurous with your video streaming? Make use of the live badges to experiment with new concepts. Determine what is better for the target demographic. What will persuade them to purchase additional badges? Which types of live videos are the most effective? The more you read, the simpler your future content will be.