Instagram For Children Under 13 Is Under Development By Facebook
Children under the age of 13 will soon be able to use Instagram.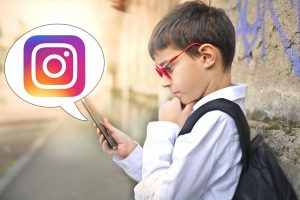 Facebook has revealed plans to create a kid-friendly version of Instagram, the popular photo-sharing app. BuzzFeed News announced on Thursday that Instagram was working on a version of the app for kids under the age of 13. Instagram's VP of product, Vishal Shah, wrote an internal post stating that the company has recently "listed youth world as a priority." "Within the Community Product Group, we will be creating a new youth cornerstone to focus on two things: (a) accelerating our ethics and privacy work to ensure the best possible experience for teenagers, and (b) developing a version of Instagram that encourages kids under the age of 13 to easily access Instagram for the first time," the post said.
According to The Associated Press, Facebook announced the story on Friday, saying it is "exploring a parent-controlled experience" on Instagram. Children under the age of 13 are not permitted to use the service under current regulation. According to the post, Pavni Diwanji, a vice president who joined parent company Facebook late last year after serving at Google managing children's products, will lead the project, which will be overseen by Adam Mosseri, the head of Instagram.
The news came just days after Instagram executives said in a blog post that defending children and teenagers is "important to us." The company announced a series of new updates on Tuesday aimed at "keeping our youngest group members safe," but made no mention of its intentions to create a version for children aged 13 and under. Analysts have indicated that a kid-friendly version of Instagram might be used by the social media giant to benefit from children's personal data.
In a tweet, Rasha Abdul-Rahim, co-director of Amnesty Software, Amnesty International's technology arm, said that Facebook "faces one of the greatest challenges when it comes to children's privacy." With 2.45 billion monthly active users on its main platform, Mark Zuckerberg's digital empire is the world's most powerful social media network. Instagram has a monthly active user base of about 1 billion people.
According to Abdul-Rahim, the company's corporate model is focused on "constant and ubiquitous monitoring," which is "absolutely incompatible with human rights." "Children will continue to be bombarded with targeted advertisements and incendiary material aimed solely at keeping their focus. They'll be at the hands of Facebook's algorithms, which far too frequently amplify misinformation and inflammatory posts in order to boost engagement," she said. "If Facebook genuinely cares about children's privacy and protection, it must fundamentally change its surveillance-based business model that harvests and monetizes personal data on an unparalleled scale," Abdul-Rahim posted on Twitter on Friday.