Instagram Hackers Using "90% OFF Ray Ban Sunglasses" Posts To Steal Your Account. Beware
As an Instagram user, you need to be very careful about a new scam that gives hackers access to your account.
Nowadays there are posts promising huge discounts on Ray-Ban sunglasses are circulating around social media platforms – but, the truth is that they dangerous cons designed to nab your financial details.
The post looks like exactly below-
If you are a regular Instagram user, you might have seen pals offering Ray-Ban sunglasses at huge discounted price.
One such post, heavily circulated on Instagram promises to knock 90% off a  pair of designer shades-bringing the price down from £199.90 to £17.65.
This particular post links you out to a website which is nothing but a big scam.
The Ray-Ban discount deal is not real at all, rather it's a phishing plot to steal your personal details and, your Instagram credentials too.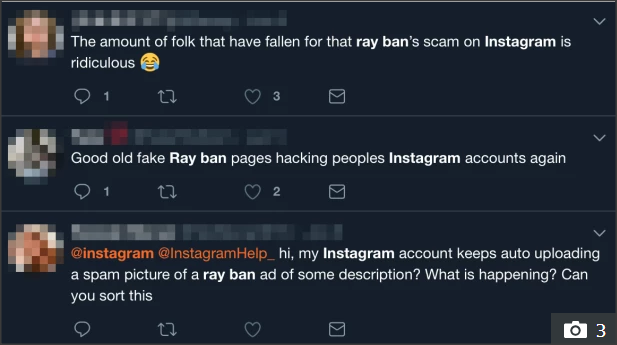 The offer is obviously too good to be true, but it's designed to be tempting enough to lure unwitting Instagram victims into typing in a dodgy web address.
And once your account is hijacked, crooks can use your profile to spread the scam post to even more people.
One scam victim from London told The Sun: "A mate saw the post on my page and asked my why I was posting about Ray-Ban sunglasses.
"Someone had got into my account and posted the photo.
"I'd seen the same post appear on four other accounts I follow too, so it's obviously widespread."
These types of phishing scams are not something new because they are not difficult to execute and works very effectively.
Cracking someone's information manually is a difficult job and that's the reason why hackers mainly depend on tricking you into handing over sensitive information by yourself.
And premium goods offered at discounted prices are a good way for crooks to make people forget basic common sense cybersecurity advice.
"This appears to be the continuation of, or perhaps the resumption after a lull in, the long-established abuse of compromised social media accounts to post fake ads, or ads for fake goods," said Nick FitzGerald, a cybersecurity expert at ESET.
"Over the years we have seen Twitter, Facebook, Instagram and other online platforms abused to post ads for various footwear brands (notably Adidas and UGG), medications, and Ray-Bans, among many other things."
It's also possible that some of the accounts were bought up on the dark web and used to spread the scam posts.
Paul Bishoff, the privacy advocate of comparitech.com said: "It sounds like someone bought a bunch of hacked Instagram accounts on the dark web and used them to spread spam."