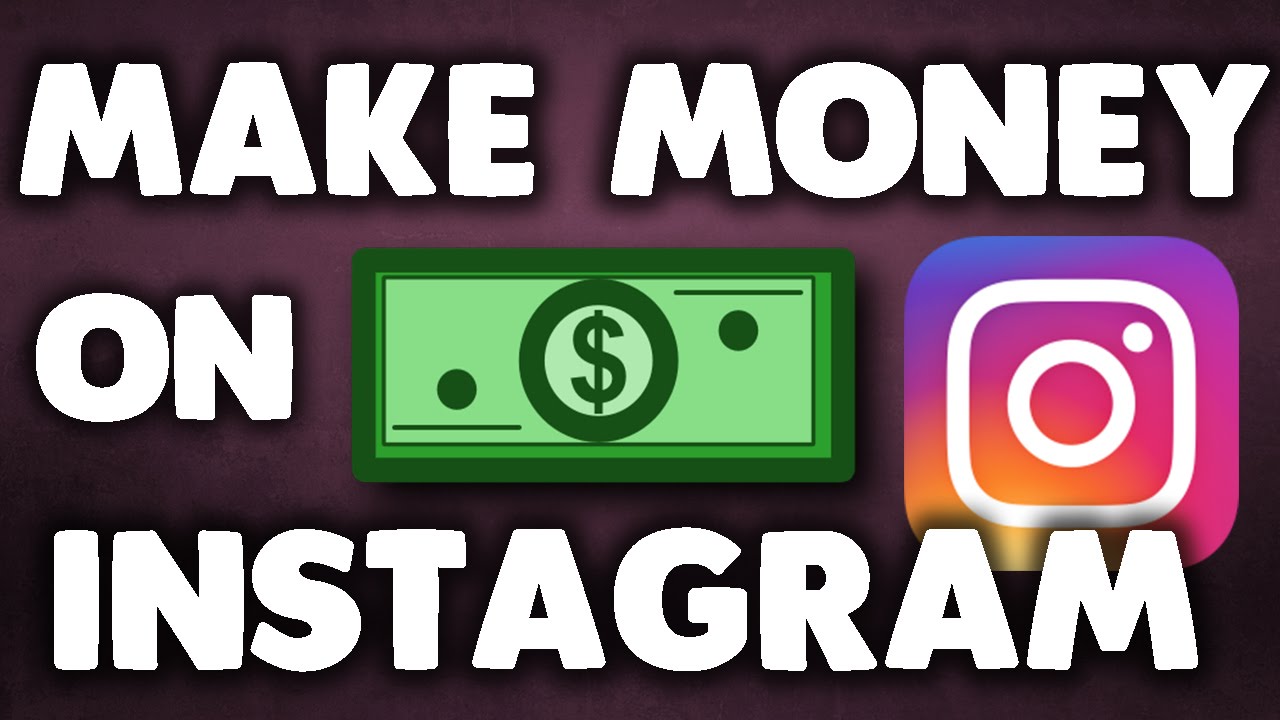 [How To] Make Money On Instagram By Becoming An Influencer
Popular Instagram influencer, Rachel Brathen, is known to charge upwards of $25,000 for a single Instagram post. Of course, Rachel isn't alone. There are numerous others like her who are making a successful living out of being an Instagram influencer.
The reason? Instagram is a powerful platform that carries massive value for brands. Today, it has over 800 million active monthly users. This implies that all of the people that brands try to target are mostly available on Instagram.
And these people actually make purchases based on influencers' recommendations. Influence Central found that consumers have ranked Instagram influencers at the sixth most effective at influencing purchases.
The growing popularity of Instagram influencers may have made you consider becoming one too. If this is something you've been thinking about, but were unsure how to proceed, read on.
In this article, we're going to share some tips on how to become an Instagram influencer and start making money. So, let's get started.
1. Choose a Niche You're Passionate About
To become an Instagram influencer, the first thing you need to do is find a niche that suits your personality. This needs to be something you're passionate about. Something in which you have a good deal of knowledge and interest. Just because someone else is doing something and is successful, doesn't mean you should too.
For example, let's say you've seen that people who post about fitness on Instagram have more followers. Should you too start doing the same, even if you don't have the slightest interest or expertise in it? Definitely not. Remember, on social media, you can't make it if you fake it.
So pick a niche that you're genuinely passionate about. Maybe you're great at DIY crafts? Or maybe you love food, and have a great deal of interest in different types of cuisines? Maybe you're into fashion and are always aware of the latest styles and trends?
Your Instagram posts should reflect whatever truly interests you and not some random stuff.
Your niche might even be a combination of different things, as long as they're not random. Here's an example of an Instagram influencer whose niche is food, travel, and lifestyle. As you can see, her Instagram feed has a good balance of posts relating to all of these.
2. Create a Noteworthy Bio
Once you have decided on your niche, you need to start fine-tuning your Instagram account. The very first thing that you need to focus on is creating a bio that immediately catches people's attention. It should talk about your story in a way that engages people.
Remember, it's one of the first things that a brand or a potential followers sees on your account. So if you want to become an Instagram influencer, make it noteworthy.
Influencer and travel blogger Helene Sula has a compelling and attractive Instagram bio. In the name field, she has cleverly included "travel blogger," so that her profile shows up for such searches. And in her bio, she tells her story of how she moved to Germany to explore Europe leaving everything behind. Except for her pups and her husband. Now, isn't that noteworthy?
3. Share Your Stories
If you think you can become an Instagram influencer just by sharing photos, you clearly have it all wrong. The captions that go along with those photos are as important as the photos themselves. Use them to tell your stories and connect with your followers on an emotional level. Give them a reason to trust you, follow you, and engage with you.
However, in your quest towards engaging them don't forget to be genuine. Because that will be easily seen though. Instead, share your personal stories in a way that your audience finds interesting yet authentic.
Check out this example of an inspiring story from a travel blogger. She talks about how she continues traveling with a pre-existing medical condition. You can see that the post has a pretty high engagement rate which means it was well-received by her followers. And brands attach much greater importance to engagement rate than the number of followers when they collaborate with influencers.
4. Make Your Instafeed Appealing
This is one of the pre-requisites if you're trying to become an Instagram influencer. Not only should each of your photos be visually-appealing but also adhere to an overall theme. This means that all of your photos in the feed should look good against one another.
Many Instagram influencers follow a particular style of editing their photos so that the color or composition is uniform. You can use tools like VSCO or Lightroom to edit your photos or just the built-in filters in Instagram. But make sure that your photos are taken in high-resolution and plenty of light to make them look really good.
Check out the account of this lifestyle Instagram influencer and see how beautifully he keeps the tones uniform. This gives his Instafeed an incredible visual appeal and makes it look aesthetic too.
5. Post Content Consistently
Posting content consistently is another crucial prerequisite to become an Instagram influencer. Most influencers on Instagram post daily. However, some of them post a few times in a day or even a few times in a week.
Studies have revealed that an increase in your content posting frequency can boost engagement rates. However, when you decide what your posting schedule needs to be, make sure that you choose wisely. Because it needs to be something you can stick to. Setting an unrealistic goal to which you cannot adhere will not help you in any way.
If you find sticking to a schedule difficult, you can schedule your posts with tools like Buffer, Planoly, Preview, or Ripl. These platforms allow you to create your content in advance and set the dates and times for posting. So you don't need to do it yourself, but your content gets posted automatically.
6. Choose the Right Hashtags
Hashtags are important because they enable your content to be found by other Instagram users. Instagram allows you to use a maximum of 30 hashtags on a photo, and I recommend using them all. But what kind of hashtags should you choose?
Remember that hashtags having high search volumes aren't necessarily good for you. Because high search volumes imply high competition too. So the chances of your post being discovered using those hashtags is bleak.
Instead, choose hashtags that have decent search volumes that maximizes your chances of appearing in the top posts. Ideally, use a combination of hashtags varying in search volumes from above 10,000 to 1 million. But definitely, not more than a million.
For example, this post by an influencer uses the hashtag #adventurecouple. This is the top post for this hashtag having search volumes of more than 44,000.
7. Leverage Instagram Stories
Instagram Stories are probably the biggest thing right now on Instagram. More and more users are joining this bandwagon. In fact, more than 200 million Instagram users are using them every day. This makes them a perfect weapon to grow more followers and gain visibility.
Even people who aren't your followers, can discover you from Stories. By adding hashtags or location to Stories, you can be discovered by more people. And if you have 10,000+ followers, you can include an outbound link using a "swipe up" option on Stories.
You can even tag others on your Stories and give a shout out to other accounts. This is not only a great way of building relationships but also growing your following. Because those accounts are likely to return the favor too. And this means you get more visibility.
8. Engage Meaningfully
Social media is all about people and how you engage with them. Engagement is one of the most important factors to help you become an Instagram influencer. When someone comments on your photos, make sure that you reply to them. Also, return the favor by liking and commenting on their content.
Here's a checklist that you can use to increase your post engagement:
Include a call-to-action in your caption
Post at a time you're likely to get maximum engagement (Use insights if you have a Business Account to find the best times)
Host giveaways and contests
Use polls in Instagram Stories
Follow similar accounts and engage with their content
You can use the "Explore" option on Instagram to find content that you can engage with. Also, you now have the option of following hashtags so that relevant content shows up in your feed.
9. Tag Relevant Brands and Contact Them
There are actually two stages towards becoming an Instagram influencer. The first, of course, is to grow your followers organically and engage them. The second, and probably more important for some, is to make money as an influencer.
So, once you have been able to grow your followers above a thousand and have decent engagement, start your outreach. The easiest way is to tag relevant brands on your photos to put yourself on their radar. Sometimes brands even feature such photos on their Instagram account giving you greater visibility.
You can also send direct messages to brands you think would be relevant to your niche. Especially, if you have seen them collaborate with other influencers like you. Work on a pitch that talks about why you are reaching out and what you can offer them. I'm not saying it's easy but you might be pleasantly surprised at the responses.
You can even join platforms like Grin, InsightPool, HYPR, InfluencerBay, TRIBE, and TapInfluence to find and connect with relevant brands. Some of these platforms need you to have a certain number of followers to be able to participate in campaigns.
10. Do Not Buy Followers
This is a rookie mistake I've seen so many Instagrammers make to pave an easy road to success. Paid followers are no good to you. If you want to become an Instagram influencer and make money, organic is the way to go.
Yes, I know it's not easy and it certainly won't happen overnight. But hey, there's no easy road to success. Paid followers can be detrimental to your growth because these followers won't be engaged enough. So your follower count will increase without any substantial increase in engagement.
The result? It will affect your engagement rate big time. Thus reducing your chances of collaboration with brands.
11. Get Help
Call us biased but OptInsta's ground-breaking outreach model has helped thousands of Instagram users to become influencers in different niches.
OptInsta helps you get massive exposure on your Instagram account and this, coupled with above-mentioned tips, results in phenomenal growth. We have grown accounts by over 10k followers within a month for a lot of our clients. With OptInsta costing less than a cup of coffee per day, it is a great investment.
Check out how Opt Insta works to see for yourself how we can help you improve your Instagram account's reach and help you become an influencer.
Final Thoughts
It's true that you cannot become an Instagram influencer overnight. You will need to be patient and make sure to follow the above steps. It might take a few weeks to a few months, but trust me, you will definitely start seeing results.
We've seen and helped hundreds of individuals land brand partnerships within a few months of following these. And there's no reason why you can't do so as well.
via Medium.com