4 Instagram Ads Strategies To Get Your Profile The Attention It Deserves
Existing in the modern age, people tend to engage with their friends and families on social networking sites. Believe it or not, one of the most popular sites for users of social media is Instagram.
Instagram crossed 1 billion monthly active users back in 2018. Most individuals are visual learners, so it's no wonder Instagram has become the most active user community and the fastest-growing social media network. As a consequence, Instagram has evolved from a photo-sharing app into a powerful marketing tool. Today, 25 million companies use Instagram for business promotion, which implies that competition on the site is becoming tighter.
Fortunately, business owners and advertisers will expend time and resources designing gaze Instagram commercials that help break through the clutter and easily deliver the brand content to the targeted audience.
Running Ads in 2021?
Without incurring additional costs, virtually any marketer who uses Instagram for company promotion strives to increase organic traffic and maximize user engagement. The days where you could attain market objectives on Instagram without running advertising, though, are gone for good. If you are curious if 2 million monthly active marketers should join you, here are the top three triggers for launching Instagram ads in 2021:
Reach a broader audience: Regardless of how famous your Instagram account is, not all of your supporters are going to follow your company on the network. Instagram records your information, so Instagram advertisements encourage you to reach out based on their contact information to consumers you already know or find new users that are related to your potential customers.
Stand out from the rest: Just a few businesses that use Instagram run ad campaigns for a myriad of purposes. Also, the algorithm prioritizes friend and family content, so advertisements give you a new way to reach your target audience and therefore grab attention.
Attain your business goals: The platform offers ad goals for awareness, consideration, or conversion phases, whether you want to tell more people about your product or convert Instagrammers into clients. It guarantees that you can establish credibility as a business with ease.
Still, not persuaded? Instagram ad revenue also affects its expansion as a part of Facebook. In 2020, approximately 70% of Facebook's ad revenue was generated by Instagram: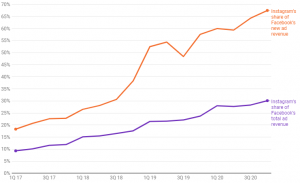 a.) Reveal Your Brand Story with Videos
The use of multimedia content is evolving constantly. Marketers are witnessing a change from written content to videos now. One research showed that by 2022, 81% of all consumer traffic would be online video, 79% of internet users view videos online every week, and 72% of customers want to inquire about a service or product through videos.
Represent the story of your brand with videos while making eye-striking Instagram advertisements. Vibrant videos not only keep your audience engaged but also empower you to provide all crucial business or product details. Thus, among advertisers and consumers, Instagram video advertisements are highly prevalent.
The encouraging sign here? To make stunning videos, there's no need to be good at creating video material. You can use a video editing application like Lightricks's Beatleap (available for iOS). This tool enables users to blend visual content for a more seamless video experience with music effects.
If you want to share your brand tales, demonstrate your products, or illustrate how to use products or services, the simplest way to do that is to run Instagram video advertisements that capture your target audience's interest, no matter what your business objective is.
b.) Place a gamble on ads for Instagram Stories
The site has a range of ad placements to pick from when it comes to running Instagram ad campaigns: image, video, carousel, and advertising for Stories. Try using Instagram Stories ads if you need to pick the best ad placement.
Instagram stories generate a sense of excitement for a limited lifetime of 24 hours because more and more users create or watch stories every day. In reality, hundreds of millions of people use Instagram Stories regularly and 84% of Millennials and Gen X (aged 25 to 44) prefer Instagram Stories over the feed.
The proper positioning of your company's Instagram advertisements depends on multiple factors, but most advertisers believe that the future of marketing is Instagram Stories advertising.
Build Instagram Stories advertisements if you want to convey your marketing message without interjecting the user experience and garner the attention of the target audience. And what's more, with your campaigns, you can use Lightroom presets to create a series of coherent ads.
c.) Make it Easy for Viewers to take Specific Actions and include a Time-Limited Deal
Whether you want to enable your viewers to learn more about your product, peruse the list of your products, or make a purchase, no matter what your ad goal is, it is important to guide your views with a call-to-action tab on what action you anticipate them to take.
A call-to-action button can be pinned by Instagram advertisers that redirect viewers to the accurate landing page. Adidas ran an Instagram Stories ad, for illustration, telling prospective customers about its new pair of shoes. The business generated a creative advertising campaign and included a clickable link to the story so that interested individuals could learn better about the product.
In addition, Instagram advertisements can be set up to help detect sales leads, so you can examine your marketing strategies to see what fits best for your audience. They don't think about the business as people select goods or services; they choose to get something that will fix their problems. This suggests that prospective clients will research to find the right solution for their needs and desires.
It is important to have a time-limited promotion that provides a sense of excitement for eye-striking Instagram commercials and hence encourages users to read more about your deal as it is one of the best growth strategies for Instagram.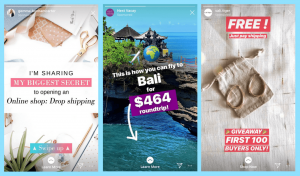 You can offer a discount code in the story or directing your viewers to a swipe-up link. You can also direct them to a link in your bio which will take them to a landing page where they can learn how to redeem your offer. These two examples are using discount codes and swipe-up commands to get the customers to their website.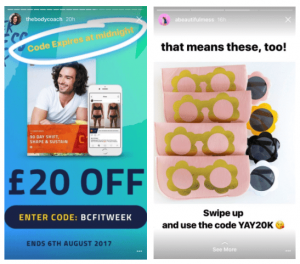 Get ready for a growing number of direct messages from ad viewers when you have a time-limited deal in your ad. This ensures that developing a good social media team that can handle customer inquiries and delegate the job to the right member of the team is critical.
d.) Collaborate with Top Influencers from Instagram
Instagrammers on both angles are bombarded with advertisements and sponsored content. These posts sound too promotional for most clients, so the greatest way to bring exposure to your business is to personify your name. Not only does it help to improve trust and loyalty, but when new consumers want credibility, it also serves to attract the interest of the target audience.
As a measure, a brilliant way to put a human face on your company would be to include individuals in your advertising. But it's a brilliant idea to work with Instagram influencers if you want to attract a wider audience and cause a stir about your campaign.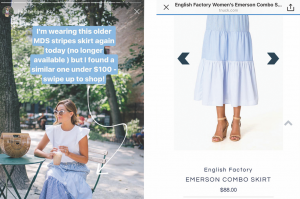 Instagram now introduces a new form of advertising, sponsored content advertisements, which enable brands to promote the work of Instagram creators through marketing campaigns.
The best part? Influencers come in all sizes and types, with varying follower sizes for macro, micro, and nano influencers, ensuring that any business will find an influencer who holds identical beliefs and values.
The "Swipe-Up" role on IG Stories can be used by FMCG brands to push traffic to their website or product pages, where customers can sample items and make purchases. Influencers may also attach purchasable stickers to tag items with links and prices within their post inside their stories. For the affiliate FMCG brand, which, in essence, would enhance traffic and revenue.