Instagram Lite App For Android Re-launched In More Than 170 Countries
Instagram's famous photo-sharing app has re-released its Lite version. The software is now available in 170 countries for access. With the introduction of the Lite app, the Facebook-owned network hopes to increase its customer base. Those who live in remote and rural areas would profit the most from the Lite app. According to the company, its Lite app will provide users with a high-quality experience while using less data. However, the Lite app is only available for Android users. For iOS users, there is no Instagram Lite app available. The company confirmed that there are no immediate plans to produce an iOS version of the Lite app. Instagram Lite can be downloaded from the Google Play Store in more than 170 countries, according to Facebook.
The app will function flawlessly regardless of how the network is configured on a unit, according to the statement. The app's global rollout will begin soon. The Lite app is just 2MP in size. The download is completed in a matter of seconds. Instagram's full-size version takes up a lot of space. It's nearly 30MB in size. According to the company, the Lite app contains all of the main features contained in the full edition. The Lite app was developed with entry-level smartphones in mind, as well as areas with restricted internet access. Reels are now supported in the Lire edition of Instagram, according to the company. Instagram's short video feature is called Reels.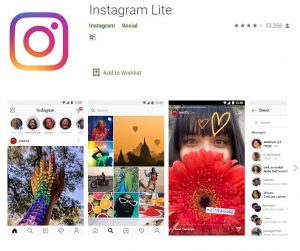 In the Lite app, Facebook has disabled a lot of the data-rich animations. This was done to ensure that the app's output was consistent. However, the company has retained features that can bring users excitement while using less data. In 2018, the Android version of the Instagram Lite app was released. However, it was removed from the Play Store last year. For users with poor internet connections or devices with limited storage, Facebook has relaunched the app. With the introduction of the Lite app, Instagram hopes to appeal to the world's developing markets. Instagram is the world's sixth-biggest social media network venture.