6 Ideas For Your Instagram Live Stream And FAQs
Here are six great Instagram Live stream suggestions to get you started. When you're having trouble coming up with an interactive Instagram Live stream for your viewers, refer to this set.
1. Organize a session or a tutorial
Instagram Live is an excellent platform for conducting a how-to workshop for your audience. You can not only stream to users all over the world, but you can also answer any questions they may have in real-time.
On his Instagram Live updates, John Mayer is one of the best at this. He also uses the opportunity to teach his fans how to play the guitar.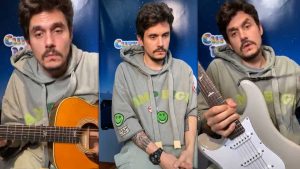 These videos are entertaining, educational, and interactive. He also takes the time to respond to questions from his viewers.
Kim Kardashian also did a live beauty tutorial for her Instagram fans.
You may not be a successful rock star or a reality tv mogul, but your brand will always teach your audience valuable lessons.
2. Interview with a coworker
Interviewing a coworker during an Instagram Live stream is a brilliant way to increase accountability and expose the business's human side. This is a fantastic opportunity to put a voice on your business while still showing your colleagues some affection and gratitude.
It doesn't have to be a brusque, Barbara Walters-style interview, either. Simply sit them down and inquire about their job, daily activities, and how they assist your audience with your brand.
Only make sure to alert the coworker before shoving an iPhone in their face like a paparazzi. Don't make the same mistake as Leonardo DiCaprio.
3. Collaborate with someone who has a lot of clout in the industry
Collaboration with an industry influencer is the best and most tested way to raise the brand value and attract more followers.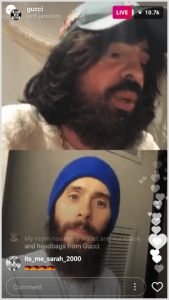 There are people that the target demographic is familiar with and admires. They give your company clout and add more customers to your market while you partner with them.
Instagram Live is an excellent venue for all kinds of collaborations.
You can invite influencers on for interviews, Q&A sessions with your fans, or just a chat using the Add a guest and Live Room tools.
At the bottom of your screen, tap the Add a guest button, and you'll be given the option to select a guest for your stream. When the visitor joins, their video will be shown on a split-screen with yours.
Use the Live Rooms option instead if you want to include more than one influencer in your show. You'll be allowed to share the screen with up to three other people.
4. Connect with a customer
To further promote the business, you don't need to communicate with an industry opinion leader or influencer. Engaging the audience by talking to a buyer about how much they enjoy your products or services is just as effective—and much less costly.
1.) Do you have fitness training? Interview a client who was willing to complete a marathon as a result of the workforce in order.
2.) Do you instruct people on how to manage their money? Talk to one of your pupils about how they used your guidance to get out of debt.
There are only a couple of possibilities. In general, if a customer had a good encounter with your business, they are prime candidates for an Instagram Live interview. And, since Instagram allows you to save the video once you've finished, you can use it as a video testimonial on your page. It's a double victory!
5. Start live stream during an event & Review
There's no better spot than an industry activity that you or anyone else is organizing to go live. Is it possible that your business is nominated for an award? Allow your followers to watch the ceremony live by streaming it.
Perhaps you're at a conference and come across a panel that you think your crowd would enjoy? Use Instagram Live to show them.
Streaming live at events increases the all-powerful FOMO (fear of missing out) aspect, which tends to generate anticipation and excitement for the next experience. This is ideal if you wish your fans to attend a future event with you. Maybe your business is throwing a celebration or a fundraiser? This is an excellent chance to show your fans your brand's friendly, joyful side.
For an Instagram Live stream, you can send your immediate reaction to an incident, book, movie, lecture, or something else. It's an open game as long as it's relevant to your business and/or your target audience is involved. For eg, if you just finished watching a talk by a well-known opinion leader in your profession, you can go on Instagram Live and share your immediate reaction to it.
Or maybe you've just finished reading the most recent book on your business and have a scorching hot take on it that no one else has seen. Go live on Instagram and spill the beans! (That's what the kids nowadays say.) Isn't that correct? Just be careful not to mention something you'll come to regret when you're so enthralled.
You can also rate and review various goods and services specific to your business. Start with a new laptop for your company? Perhaps you've been experimenting with a new webcam? All of those items are being reviewed in real-time!
6. Questions and Answers
Answering their questions is a perfect way to start creating interaction with your audience. This is particularly effective if the company has opinion leaders.
Simply go live on Instagram and ask questions of your followers. They will cover a wide variety of subjects, from the latest industry news to the inner workings of the business. Be sure to let your followers know ahead of time that you'll be hosting a Q&A session so they can prepare questions. This also aids in the pre-production of buzz for your stream.
Instagram Live frequently asked questions: –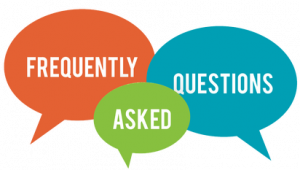 1.) What's the best way for me to respond to questions on Instagram Live?
For a Q&A, you can use your Instagram Story to solicit queries from your fans. Create a Story Post with the question you want to ask and a questions sticker. You'll be able to access all of them through the questions button when it's time for your Instagram Live stream. When you press the button, a drawer opens with all of the questions you can answer. Choose one of the questions, and it will be visible to your followers on your stream.
2.) What happens to my Instagram Live video?
After you've finished recording your live video, you can save and post it. Instagram helps you to share the Instagram Live stream to your Story when you tap End during your session. You'll be able to see it there after that. You'll still be able to save the video using the save icon at the bottom of your Story.
3.) What's the best way to toggle off the comments?
Turning off comments on an Instagram Live video is as simple as clicking the three dots in the chatbox and selecting Switch Off Commenting.
4.) Is it possible to limit who sees my Instagram Live?
Well, indeed! Instagram allows you to control who can see your Instagram Live stream. The atmosphere acts just as it does on Instagram Stories (because that's where your video will "live"). Simply press the camera icon in the top left corner. Then, in the top left corner, press the gear or settings button. Then choose who you want to hide from your Instagram Live stream in the Hide Story From section. You can also tap on Close Friends to choose a smaller group of individuals with whom you want to share your Story.