How to Use Instagram Bio Link To Drive Traffic
If you looking for a perfect online platform to showcase your brand and products, nothing could be a better option than Instagram for you. Unfortunately, a lot of marketers are still not quite familiar with the potential of Instagram so it's very obvious that they are not using the platform it its fullest potential when it comes to driving a significant amount of traffic to their websites.
We all know the fact that Instagram doesn't allow the users to post links in posts so your opportunity to drive direct and consistent traffic from Instagram is limited which makes it hard for businesses that are looking forward to guiding their audience to their own websites. On the positive side, Instagram allows users to have one external link in their bio so as a business, you can use it as a crucial location to encourage the visitors to click through to your website.
Instead of simply inserting the homepage URL of your website, you should be harnessing this link that can expand the business goal. If you are planning to use your Instagram profile to drive traffic, you will be able to open so many avenues to grow your business and optimizing the bio link could be the most effective way to start it.
There are three crucial things that you should consider when it comes to using the link in your Instagram bio-
1. Know what your business goal is-
Since you can use only one link in your author bio, so you need to make sure that it will convert and, help you reach the business goals.
The first and the most important step to perfectly optimize your Instagram bio link is to think exactly what you want to achieve when people visit your website. What's your basic objective- to enhance sales? Building brand awareness? Or increasing the number of Instagram subscribers? Once you know it well, you will be able to identify which link will work the best for your purpose. For example, if your objective is to increase the overall number of newsletter subscribers, you should directly link it to your landing page where Instagram followers can join you.
Just check out below how The Social School directs its followers to where they can go for monthly sign up for workshop or webinar.
This is one of the most effective ways to drive the followers to where they want them to land and help to achieve their overall sign up goal. Sending the audience directly to your website and hoping that they would find your Newsletter sign up form could be a risky venture of losing the audience. Always remember one thing that the more targeted you can be with your link, the better it will be for your business.
Make sure that you double check every link that you use in your author bio works properly and, goes exactly where you want your audience to go. Nothing can be as frustrating as having a broken link as this will not only lead you to lose sales but you will also lose followers.
2. Optimize The Instagram Link In Bio:
While your Instagram link in bio plays a small role in what makes up the profit for your business but it can play be a big part of the profit if you optimize it in a proper manner.
You can use tools like Linkin.bio by Later which enables you to add links or tag products in your Instagram post to convert your feed into a clickable, optimized Instagram landing page.
With Linkin.bio, you can use each of your Instagram posts to lead your audience to different pages of your website. By establishing the connection between Instagram and your brand website, you can help your audience to find information or products they are looking for in a quicker and more efficient manner.
Once it's set up, all you need to do is remind and direct your followers to click the link in your bio and, using a simple Call To Action word in your caption and Instagram stories would work wonderfully.
Well+Good, a lifestyle, and new publication have implemented an excellent strategy to promote the multiple numbers of articles per day from their profile. By optimizing the link in their Instagram bio with Linkin.bio, this company has been managed to increase traffic 179% year over year.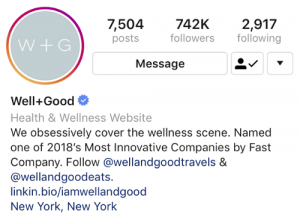 Instagram is working hard to build its own tools to promote items within images and even videos also. Instagram's shopping tags have recently expanded to Instagram Stories Content and it's coming with the checkout option to facilitate the in-stream buying.
3. Focus More On Instagram Bio and Post Content:
No matter what your goal is, you must ensure that your bio copy is working hard to drive your followers to click the link. Spending some time on your bio-copy will definitely pay off. When it comes to writing a bio-copy, you only have 150 characters to play with so make sure it has a strong call to action in the final line.
Huff Post is using a special character, icons, and alternative fonts to make the bio stand out.
Similarly, when you plan for your Instagram content for the future, make sure you don't forget to integrate calls-to-action within your posts and Instagram Stories text.
A simple message at the end of your caption can make a huge difference in driving traffic to your website and driving traffic and improving overall sales. Just see how WeWork uses emojis and call to action words to direct their followers to where they can get more information.
Whatever you select, make sure that your font, emojis, and messages match the branding, aesthetic and tone of your brand.
When it comes to driving traffic to your website, the link in your Instagram bio can be a real game changer, and it really doesn't take a lot of time, budget, or effort to optimize your linking strategy to convert your Instagram followers into website visitor and customers.